So, yeah this week. I've wanted to post a few other times this week, but then I was worried that I wouldn't have anything to post about Friday. Well, today's Friday, I think, Honestly I lose track during the summer, and I have multiple things to talk about.
A man I admire greatly, His Grace Bishop Daniel, visited Slickville this past Sunday. He came to elevate my father to the rank of Protopriest. He served with us all, and it was quite nice to hear him speak. I hope to have the video of his homily up eventually, but nevertheless it was quite a nice service.
Unlike
the last time he came
, he gave a week and a half's worth of notice, enough time to alert some presses, which packed our tiny church with about 50 people. Mind you, we only have 25 or so come on an average Sunday.
We (that was, my mother, father, and I) were discussing the night before the logistics of how it was all to work. Again, we had more notice, so they had the event catered, my father was able to tell a bunch of people, so we didn't exactly know who would come.
But then we realized that the building is alive. And no, I don't mean that in some "church in the woods is haunted oooohhh spooky" way or the feel-good metaphor of a lively parish, but rather the physical inside of the building appears to expand to fit as many people that show up. On a typical Sunday with 20 or so people, it feels full. And with 50 it feels full. It's extremely hard to describe, and I welcome whoever reads this to come out sometime and see it yourself.
So after everyone left, the pictures were taken and cleaned up and my father wrote an article. My mother decided that I should write it instead, but in reality what I did was play editor to his original. I added a lot of wording, condensed some stuff, and you can probably pick out the portions that are my style. You can read my frankenstiened version here:
http://www.uocofusa.org/news_130723_2.html
.
So that got published on Tuesday. On Thursday we got our copy of the
Signal Item
, which is a local paper published weekly about the goings-on in originally Carnegie, but has expanded to the Carlynton/Chartiers-Valley area. And I read through and I find something that looks awfully familiar.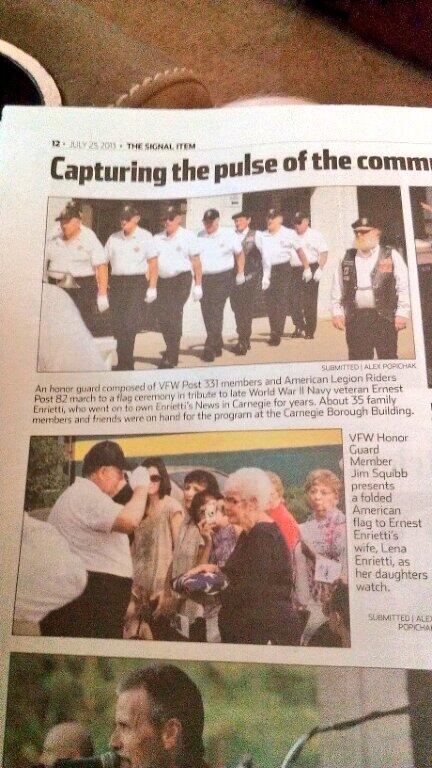 I took some pictures at the last flag ceremony for the mayor of Carnegie, and he was kind enough to have them published in my name by the Signal Item.
I love that they picked out my two favorite pictures to print. These flag ceremonies have certain elements to them that are extremely hard to capture, and are amazing to experience. In fact, one was published that I
couldn't time right before.
Those moments are the playing of taps, the lowering of the flag, folding of it, and the presentation to the family of the fallen. And the coolest part (at least to me) is that they present it to the family with the same words that it was originally presented at the funeral with.
And then the commander of the VFW salutes the family. This is the amazing moment captured. And I will tell you that this picture does no justice to how truly poignant that moment is.
This all, if you know me personally, you know I freak out anytime I see something I made being put someplace other than my blog. So this was quite pleasant.
Post-Script: Sorry this was so LONG. I didn't realize that, but usually I write 300 word posts, this is more like double that. Sorry :/